Let's
build
your next
startup.
We help founders from early product engineering to planet scale
Dev

Sec

Ops
.
WE WORK WITH
Python is our favorite language to build elegant maintainable platforms using frameworks like Flask and Django
EXPLORE HOW WE WORK
Strategic product planning
We will help you shape your idea into a strategic MVP (Minimum Viable Product) plan. We work with you to understand your vision, target market, and goals, enabling us to craft a comprehensive roadmap for your startup's success.
1 week trial engagement
Explore and collaborate without any commitments in our 1-week trial, with no upfront fees.
Launch early, iterate later
Launching early is essential for startups. We help you plan your MVP in a way that you can launch as early as possible.
Tech stack matters
Well-thought-out tech stack matters. We embrace an opinionated tech stack based on long-standing open-source technologies.
Unlocking product/market fit
We will join you on exciting journey of continuous improvement and experimentation as we unlock the perfect product-market fit together! With our agile approach, we swiftly adapt, testing, analyzing, and refining the product based on valuable user feedback and market insights, ensuring your success.
Doing whatever it takes
Finding product/market fit is crucial for success. We are ready to do whatever it takes to help you in the journey.
Keep your cash burn rate low
We help you keep your cash burn rate low with effient, effective iterative development cycles which is essential for survival of startup.
Portal for real time task tracking
We have built our own internal platforms to help you track task progress and delivery estimations. You can see and track real-time progress of tasks as we build, test, and deploy.
Scale beyond boundaries
We help you scale your product to new heights of growth and influence, ensuring it thrives on a global scale. We use DevSecOps to build an efficient and secure cloud operating culture
Aggressive scaling
After finding product-market fit, we expertly enable and empower your startup to scale aggressively on the technical front, achieving remarkable growth
Secuirty first
We always operate with a security-first mindset, ensuring data, platforms, and infrastructure are protected at all times.
24/7 Support
With our 24/7 support plan, we ensure that critical systems are constantly monitored, optimized, and safeguarded to keep your product running smoothly at all times.
Portal to everything
Our end-to-end integrated portal will give you a next gen product development experience including realtime project progress and delivery projections.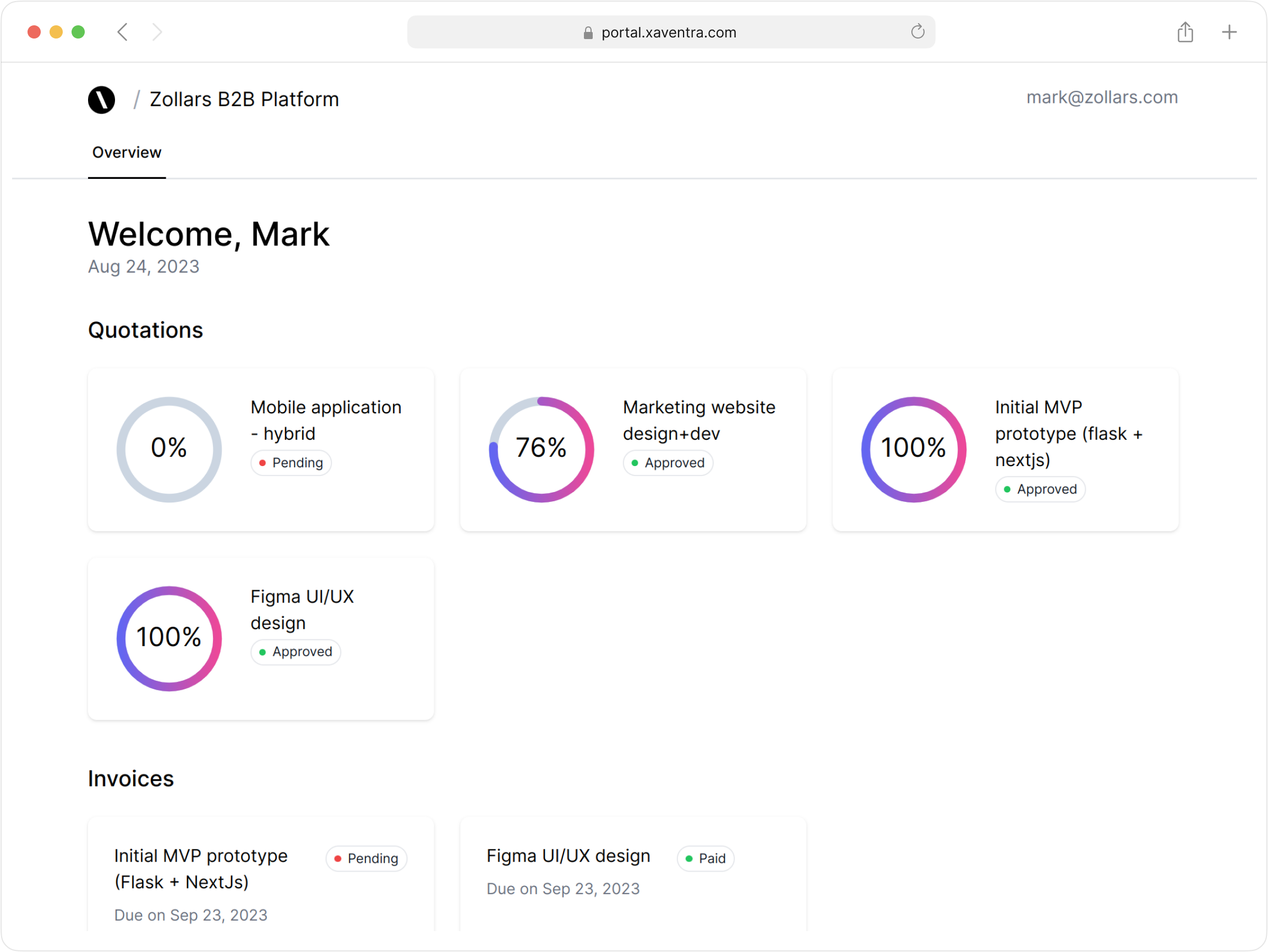 Frequently asked questions
You only pay if you are happy with the work we did during the trial week, in terms of how well we fit into everything you are looking for.
We work really well with asynchronous communication. We can adapt to overlapping time blocks that fit your country's schedule when needed.
We are open to work for equity but not usually at very early stages of partnerships.
We offer 6 months guarantee (bug fixes) for everything we do to ensure that you can always operate within a defined budget.